Santander International partners with Cargo to provide sustainable food and barista services at the Santander Work Café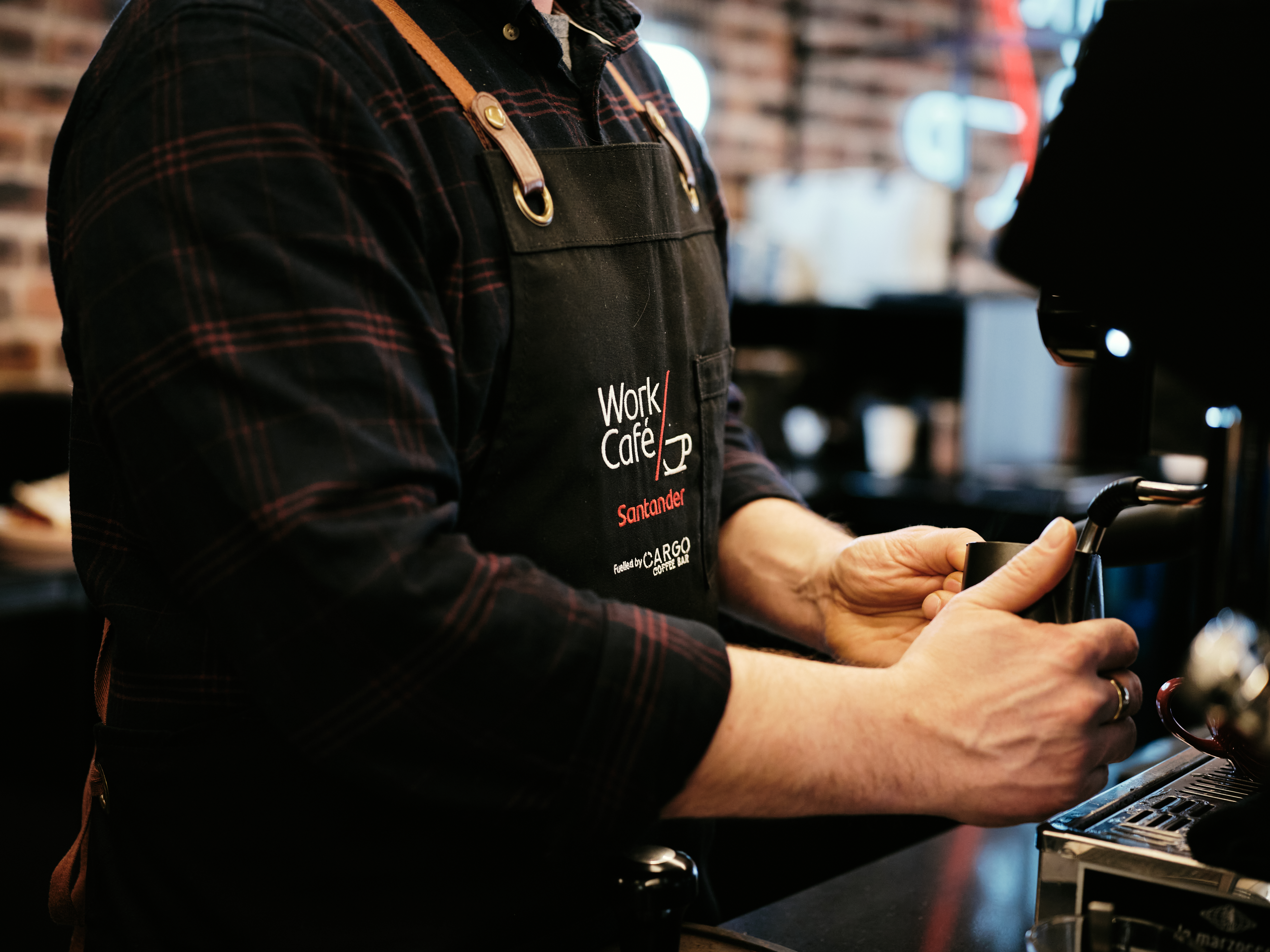 Sustainable coffee and locally produced food are set to feature on the menu at the new Santander Work Café in Jersey.
Santander International is partnering with Cargo to provide food and barista services, which will include freshly prepared food using local Jersey ingredients, and coffee from Ozone Coffee.
The partnership is the third venture for Cargo's founders, Selda Kumcur and Liam Montgomery, in St Helier in three years.
Selda and Liam developed their passion for sustainable coffee and local produce when they opened their first café together nearly 15 years ago in Costa Rica. Set on a surfing beach, the café attracted tourists and expats with its welcoming service and idyllic location.
A year later, the duo sold up, buying a bigger bar and nightclub, which they turned into a community hub, the team and customers becoming their substitute family.
Selda said: "Bringing people together is important. Liam and I are both from large families and when we were in Costa Rica, we developed a large network of friends through the bar. These friends became like our family. With Cargo it was a similar experience; we are a close team, with a lot of regular customers who we got to know well."
During lockdown, Cargo kept going with takeaways and deliveries, transforming their operating system overnight. 
"Covid pushed us out of our comfort zone but it made us want to try new opportunities." Selda said. "It made us go for the tender with Jersey Museum, which led to The Yard, and it made us aim for the partnership with the Santander Work Café."
Partnership is a good way to describe how Liam and Selda view their relationship with producers and suppliers. 
Liam said: "It's important for us to support the local economy and other Island businesses. We serve as much locally produced food as we can and make virtually everything in house. It can take a couple of hours from the chefs coming in before we're ready to open for breakfast because they prepare so much from scratch. All our own bread, pastries, cakes, and sauces are made in house, and this will continue with the food at the Santander Work Café."
Cargo's menu includes organic vegetables grown by Just William, and Anneville Farm, and meats from Woodlands Farm. The new menu at the Santander Work Café will feature freshly prepared food that is easier to take away or eat al-desko, with items such as grilled cheese sandwiches, salads, soups, and healthy breakfast pots, likely to appear. 
Liam originally came across Ozone Coffee in London when trialling blends for Cargo three years ago. Founded in New Zealand in 1998, Ozone Coffee is committed to investing in 'product, people, and community'.
"Ozone develops a long-term relationship with coffee farmers, buying from them directly to help put more money into their communities. It's an ethical brand that tastes absolutely brilliant too."
Cargo will serve their house coffee, Empire, at the Santander Work Café. This is a blend of five varieties of beans, from plantations in Brazil, Colombia, Ethiopia, and Guatemala. Named after the café in New Plymouth, New Zealand, where the coffee was first served, the drink contains notes of nougat, milk chocolate, and caramel.
In addition, the Santander Work Café will also offer a single variety coffee, chosen by Liam each season.
"There is an art to making good coffee." Liam said. "But when a customer stops you and tells you how much they've enjoyed it. That is such a good feeling it makes all the effort worthwhile."
After over a decade away, Jersey is once more home for Liam, and after nearly five years here, it's also starting to feel like home for Selda, who grew up in Turkey and France.
With its free, bookable meeting rooms, co-working spaces, and banking facilities, the Santander Work Café is designed to be an accessible space in the heart of St Helier for all the community.
"Hospitality is about welcoming people." Selda said. "It doesn't matter where you are in the world –from Costa Rica to Charing Cross – we all enjoy good service from real people we can connect with. And good coffee too!"
The Santander Work Café will open at 13-15 Charing Cross, St Helier, in January 2021. For the latest updates, follow us on Instagram or Facebook.