Starlight, making a splash in Peel for Santander International
The Big Splash, a mass participation art event that is being held on the Isle of Man until 19th September 2022 is now live. The art trail has been brought to life by a beautiful pod of giant and majestic Dolphin sculptures designed and painted by some of the island's most talented artists.
Kate Summervile, was the local artist tasked with creating Santander International's exhibit, Starlight. Already known island-wide for her incredible seascapes pieces the dolphin sculpture proved to be the perfect canvas for Kate.  
'Starlight' who is inspired by one of the island's famous Manx mother and daughter dolphin duo features crystal white patterns on a vibrant blue background.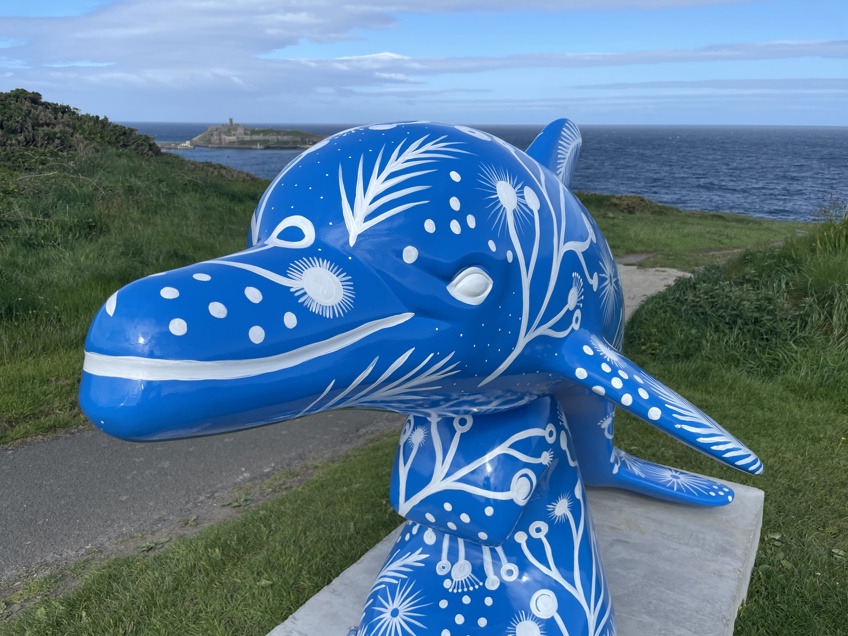 You'd think decorating a life-sized dolphin would take time. But for Kate, her simple yet striking design meant Starlight was created in just one day! A testament to Kate's talent and maybe a record for Wild in Art artists.
James Geldart, Managing Director of Santander International's Isle of Man branch said
"It was a very difficult decision choosing which Big Splash dolphin to bring to life as the standard of the submissions was outstanding.
However after hearing the story of Starlight, who was born on the Island in September 2019 and how she has ever since captured the hearts and interest of Island residents we couldn't think of a better dolphin to bring to life for The Big Splash."
Santander International is proud to support our local community and delighted to work with Hospice Isle of Man on the Big Splash trail which is helping to raise valuable and much needed funds.
James said "We are excited to support this new Wild in Art trail. Santander International are proud supporters of the local community. We recognise the invaluable work Hospice Isle of Man undertakes and how many lives have already been touched by this charity.
We hope that many families will enjoy completing the trail by using the app over the summer and encourage residents and visitors to re-discover and engage with our island like never before."
Starlight can be found at Peel Headlands and we encourage everyone to download the free Big Splash trail app which will steer you on a voyage of discovery, help you explore the trail and earn rewards - If you unlock Starlight on the Big Splash app you will earn a free ice cream from Davison's in Peel. 
Click here to find out more about the art trail and Starlight.