Alfie Hamilton-Dalzell wins the 2022 Gran Fondo 'Design the Minisculo Fondo t-shirt' competition
Spectators were delighted to see the Minisculo Fondo entrants ride their cycle course in t-shirts designed by Alfie Hamilton-Dalzell, winner of our 'Design the Minisculo Fondo t-shirt' competition at the Isle of Man 2022 Gran Fondo.
We invited children to enter the Design the Minisculo Fondo t-shirt competition in May, with categories for entry of 0-6 years and 7-11 years.  The winner of each age group would receive a £100 Cycle360 voucher and the overall winner would also see their winning design being worn by the Minisculo Fondo riders on Saturday 16 July.
The judging panel included James Geldart, Managing Director of the Isle of Man branch of Santander International and Rob Holden, former professional cyclist and Gran Fondo ambassador.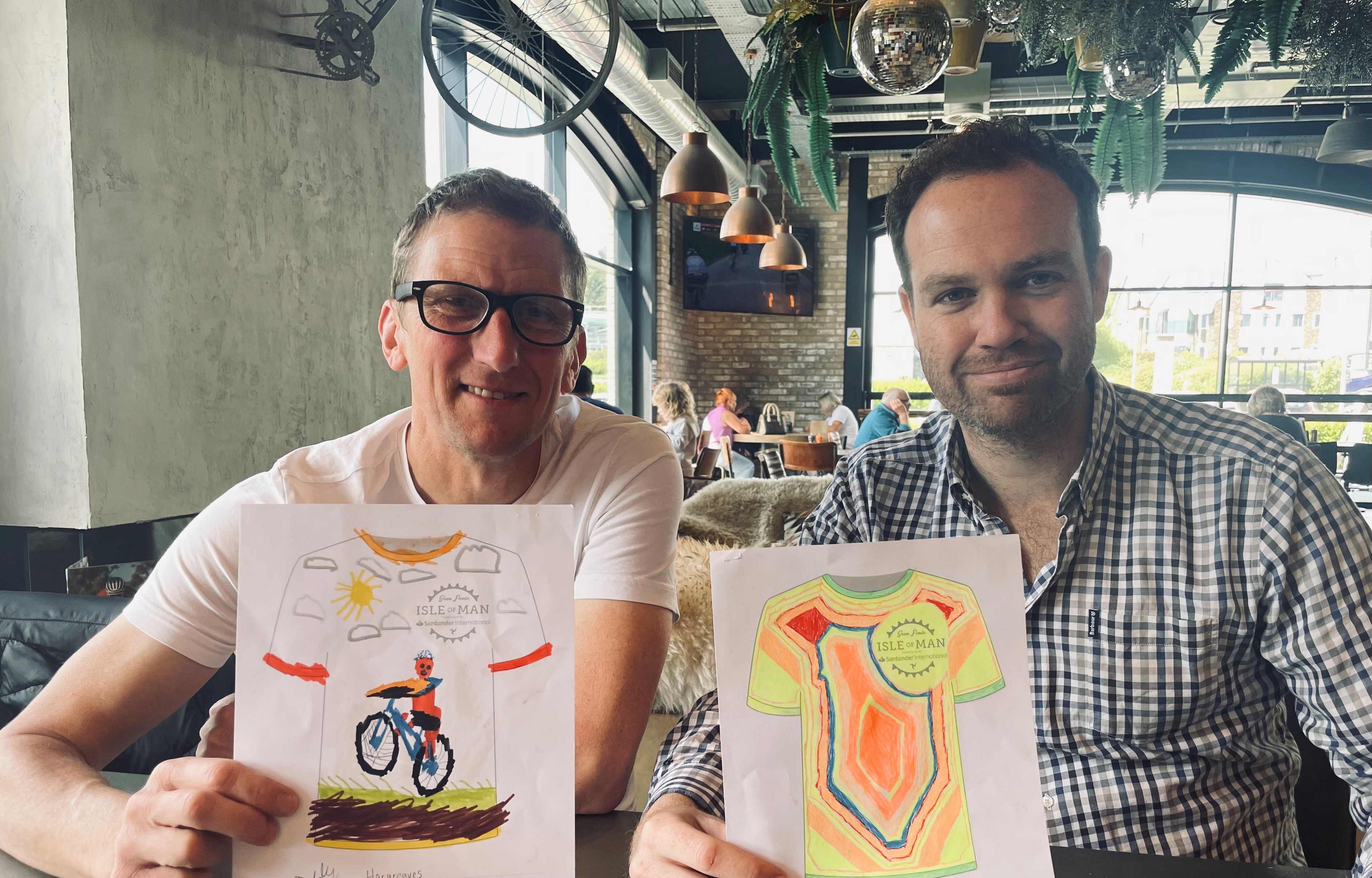 James Geldart said: 'We were delighted to have received a huge number of entries across all age groups featuring many varied aspects of cycling. It was a tough decision choosing the winners and all the children that entered should be extremely proud of their efforts.
I'd like to congratulate our category winners: Teddy Hargreaves (0-6 years) and Alfie Hamilton-Dalzell (7-11 years) and our overall winner Alfie Hamilton-Dalzell.'
The theme for the competition was 'great outdoor cycling adventures ', which was inspired by the Gran Fondo, a mass participation long-distance road cycling event. Alfie's colourful design featured a loose outline of the Isle of Man and colours inspired by stage winner jerseys.
Alfie Hamilton-Dalzell said: 'I'm so happy to have won. My inspiration was to use bright, standout colour that would look amazing at a cycling event. I used my £100 Cycle360 voucher to purchase a new helmet to go with my brand new bike which I got as birthday present!'
The limited edition t-shirts were given to all Minisculo Fondo entrants and helped celebrate Santander International's sponsorship on the Gran Fondo on the Isle of Man.
Simon Crellin of the Gran Fondo Organising Team, said: 'The design the Minisculo Fondo t-shirt competition was a great way to mark the start of Santander International's three year sponsorship of Gran Fondo Isle of Man.
It was great to see children cycling the Minisculo Fondo in the uniquely designed t-shirt and we hope that both the event and this promotion encourages them to get on a bike. We congratulate Alfie Hamilton-Dalzell who designed the t-shirt and were delighted to welcome him as well as his family to the event to see his t-shirt design in person.'